The Pinzgauer breed was first imported to Africa in 1893 as part of the SF (Schweizerischer Fleckviehzuchtverband) by the colonial government for Austrian and German settlers in the German colony of Deutsch-Südwestafrika (German South West Africa), now Namibia. This presumably included Braunvieh, Fleckvieh,Pinzgauer, Rotbunte, Rotvieh and Friesland. The purpose was to improve the genetic pool of cattle and to assist the colonial farmers to build their herds.
From 1893 to 1903, the landing operation of imported livestock was a notable task since there was no harbour or pier at the tiny seaside town of Swakopmund. The Pinzgauers were then established in the area of Windhoek and Gobabis mainly. After 1910 the Landesrat convened for the first time and state aid was once more approved to infuse fresh genetic material into stock farming. Breeds including Pinzgauer, Friesland, Simmentaler, Allgäuer and Oldenburger were imported. The main drive of this initiative was by renowned company Metje and Ziegler. Namibian breeders that were known from the sixties to ZZ2's late Bertie van Zyl were names like Wilckens, Austermüle, Finke, Bühm and Lauterbach were most probably descendants of these early pioneers.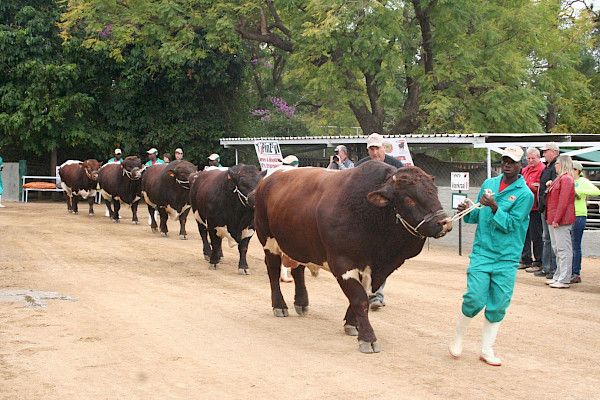 The Pinzgauer Cattle Breeders' Association of South Africa were affiliated with the South African Stud Book and Livestock Improvement Association in 1962. At the time there were about thirty breeders with more than 2000 registered cattle. Since 1967, the South African Pinzgauer breeders society has been participating in the National Beef Cattle Performance Testing Scheme with outstanding results. My father Bertie van Zyl imported the first Pinzgauers into South Africa in 1964. He then began a journey of farming with Pinzgauer cattle and building the breed and brand Pinzgauer in South Africa that would be a lifelong commitment. His interest and enchantment with Austria and the Pinzgauers enabled friendships in the cattle industry that would last for a lifetime. In Austria IPCBA leaders like  Dr. Gerhard Holz, Günther Heim, Christian Dullnigg and Hans Scharfetter shared the vision over decades to develop the Pinzgauer to its fullest potential in Africa.
The ZZ2 Grootboom Pinzgauer stud was registered in 1964. The journey of farming with Pinzgauers has been an integral part of the ZZ2 main identity of being a tomato farming family business. Subsequently, the Pinzgauer cattle is also sharing the resources of the extended ecosystem of ZZ2 farms with avocados, apples, pears, onions, cherries, blueberries, medjool dates, kiwis, citrus fruits, almonds and macadamia nuts. The matrix organisation of horticulturalists, agronomists, engineers, IT specialists, accountants, craftsmen, managers and farmers all work together to create value for all our stakeholders.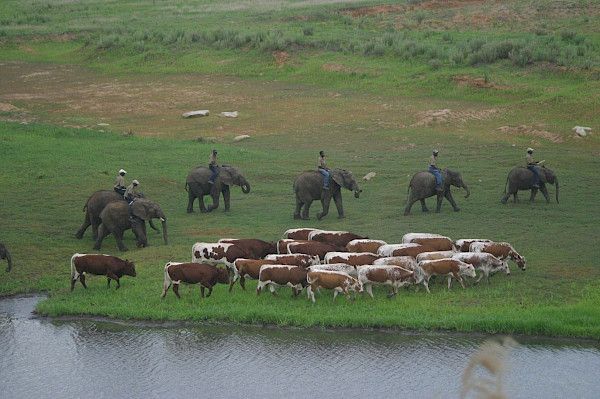 ZZ2's Pinzgauers is renowned for its exceptional sire-lines and has produced many superior breeding stock. The genetics available from this stud are sought after by large breeders. This makes the ZZ2 Grootboom Pinzgauer Stud the main supplier of Pinzgauer genetics in the South African Pinzgauer industry.
The Pinzgauer is known for its distinctive colour pattern. These uniform animals are bred with the goal to produce more meat per hectare in harsh, extensive African conditions and have excellent dairy ranching potential. The South African Pinzgauer is a dual-purpose breed that produces both quality beef and good milk yields. They have a medium frame build with good breadth, depth and immense beef capacity. Pinzgauers are renowned for their longevity. Bulls can breed for 12 years and cows can live as long as 18 years. They have an excellent walking-ability to graze over large areas. Pinzgauer cows have exceptional mothering qualities. The team at ZZ2's Cattle Division is dedicated to raise animals of the highest quality based on sound animal husbandry principles, latest technology, adaptivity based on scientific research and innovation.
The Pinzgauer journey at ZZ2 also gave birth to a composite breed that ZZ2 put together by crossbreeding the Pinzgauer with the Nguni breed. This newly registered breed is called the PinZ²yl.
The PinZ²yl brings together hundreds of years of natural selection in an African environment of the Nguni breed fused with the performance and production qualities of the Pinzgauer breed and introduces very special traits of a productive and low maintenance new breed for extensive cattle farming to Africa.
‍The PinZ²yl has been bred and selected for economic production, parasite and disease tolerance in extensive cattle grazing regions and has developed into a low maintenance breed. The name PinZ²yl refers to the Pinzgauer origins of the breed as well as the Van Zyl surname and ZZ2 brand name. The '2' in the middle of PinZ²yl refers not only to ZZ2 but also refers to bringing together the best of two very different worlds, namely the oldest indigenous breed in South Africa, the Nguni, and one of  the oldest European breeds, the Pinzgauer.
The ZZ2 Mathomo PinZ²yl tud is another one of ZZ2's performing herds. This herd is the pioneer PinZ²yl stud and has been cross-breeding Nguni dame-lines with Pinzgauer sire-lines since 2000. The ZZ2 Mathomo PinZ²yl's can be seen at Grootboom in Mooketsi. The animals in this herd are selected to thrive with low maintenance cost and minimal management. All the cattle in this herd are highly fertile and adapted to veld conditions. The ZZ2 Mathomo PinZ²yl Stud selects for tick and heat-resistance, calving ease and low calf mortality, functional and effective physiological build and good mothering ability. The Mathomo PinZ²yl stud has been awarded many merits of longevity and fertility in their herds. ZZ2 Mathomo PinZ²yl cattle's low lick, dip, medicinal and management requirements, will ensure that Grootboom Estate and its clients will benefit.
On careful analysis of the historical events and the status of the Pinzgauer Herd in South Africa, the following conclusions can be made:
For some reason which is unknown, there was a huge decline in breeder and cattle numbers over the period 1980 to 2000. However, from 2000 there was a slow recovery and turn-around from this situation. Further improvement with new marketing initiatives should  be seen.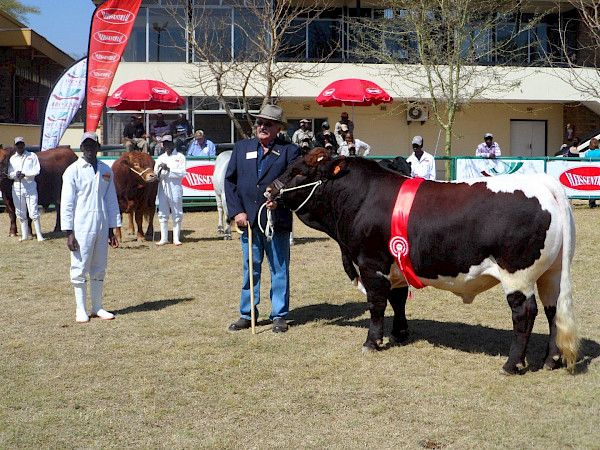 The genetic pool is shrinking with the result of higher inbreeding figures experienced by all breeders, which should be corrected by introducing new genetics and bloodlines from outside South Africa. In this regard, the assistance by the International Pinzgauer Cattle Breeders Association could help a lot to ensure unrelated Pinzgauer genetics to be imported.
To counter the decline in breeder and animal numbers ZZ2 embarked on a marketing effort to again focus the value of the Pinzgauer as a breed, not only with existing breeders but also with breeders of other breeds and especially regarding the benefits of the Pinzgauer in feedlot production. The effort resulted in an increased interest for Pinzgauer bulls for various applications, one being the use in PinZ²yl cross-breeding. ZZ2 also did a "road show" across South Africa recently to visit as many Pinzgauer breeders on their farms as possible. We visited current members and also some previous members. The objective was to re-establish a base for the Society, specifically with the imminent PinZ²yl departure, to promote the interest of the Pinzgauer as a breed in South Africa. As a response to the inbreeding problem, we also took a brave step to transfer all the old ZZ2 owned embryos, which had been in preservation since 1993, to broaden the genetics within the national herd, as swiftly as possible. These include old embryos from the likes of Knut, Stoiss, Balrina-P4 and Nevada. Sadly, we could not find any other information on these embryos except that they were imported from Europe by Bertie van Zyl at some stage. A peculiarity of these embryos was that they were all packed, three embryos in a single straw and had to be thawed in a three-step process with mediums that are no longer available in South Africa. Fortunately, we found a veterinarian that could still prepare the mediums and do the transfers. We are now anxiously awaiting the calves. All these efforts were made to try and establish new bloodlines to reduce the inbreeding.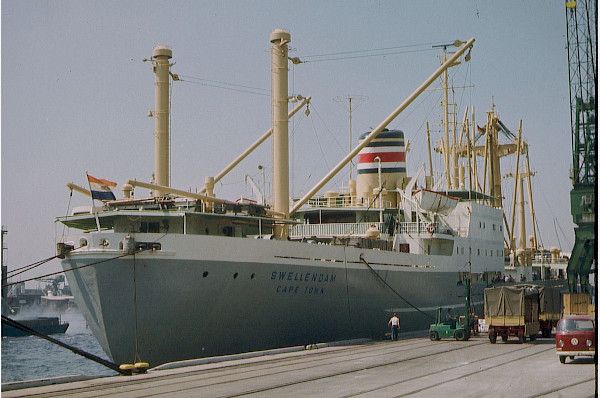 The next step is to import non-related genetics (semen and possibly embryos) from Europe, USA, Australia, and New Zealand to reduce the inbreeding and to possibly increase the milk traits of our local herds. The Pinzgauer breed is however still very competitive in the South African cattle farming environment where 39 other breeds are also active. The South African Pinzgauer has adapted to the local environment, over more than six decades and has an important and relevant role to fulfil.This is evident from the fact that Pinzgauer bulls are still in demand specifically for commercial farming. The South African Pinzgauer gene pool is strong and stable, apart from the in-breeding.
ZZ2 is inspired to create an even stronger identity for the Pinzgauer cattle in our business and in Southern Africa. We believe "brand Pinzgauer" is strong and has many traits that can be developed stronger going into the future. We also hold our relationships with the International Pinzgauer Cattle Breeders Association and  Pinzgauer breeders worldwide and in Africa in high esteem.
An article by Tommie van Zyl. Chief Executive Officer ZZ2.