On 5 September 2020, the Museum of Mining and Gothic Art Leogang was able to purchase a rare coin at the Frühwald Auction House in Salzburg: the 1790 Lion Thaler. It is one of only five 1790 Lion Thalers worldwide and now on display in our exhibition "Treasures from the Pinzgau Region". Director Hermann Mayrhofer would like to thank the generous local donors who have been closely involved with the museum for years.
Silver mining plays an important role in the 3200-year mining history of Leogang. Silver from Leogang was gladly used for coinage due to its high degree of purity. In 1770, Prince-Archbishop Sigismund of Schrattenbach had a chapel built for the miners in Leogang which was dedicated to the silver patron saint of Europe, Saint Anne. Ever since, there has been a Holy Mass in the chapel on Saint Anne's feast day, 26 July.
In 1790, Prince-Archbishop Hieronymus Colloredo had the Lion Thalers minted from silver mined in Leogang. On the obverse of the 1790 Lion Thaler is a bust portrait of Prince-Archbishop Hieronymus Colloredo with full-bottomed wig, calotte and mozzetta. The reverse features two rampant lions holding a quartered coat of arms.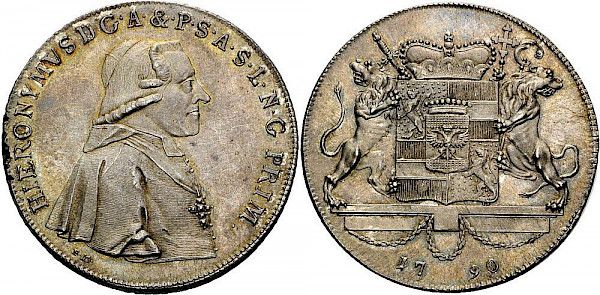 Bavarian Elector Karl Theodor immediately raised objections to the 1790 Lion Thalers, because contemporary Bavarian coins featured a similar reverse design. The elector was not only worried that the coins from Bavaria and Salzburg be confused. He also considered it presumptuous that a prince-archbishop use lions, a secular symbol, for his coins. Prince-Archbishop Hieronymus Colloredo had to melt down the 1790 Lion Thalers. Today only five of these coins are known to still exist.
The history of the 1790 Lion Thaler is closely linked to Leogang. The progressive Prince-Archbishop Colloredo was the last ecclesiastical owner of the mines in Leogang, where the silver for the archiepiscopal coins was mined. In addition, the parish church of Leogang was completed during Colloredo's reign and his coat of arms embellishes the church ceiling.
Together with Count Josef Paul Colloredo-Mannsfeld and his two sons, we proudly presented the 1790 Lion Thaler coin to the public in 2021. It is now on show at the museum and forms part of the exhibition "Treasures from the Pinzgau Region". With the 1790 Lion Thaler another exhibit featuring lions has found its way into the Museum of Mining and Gothic Art Leogang. The museum holdings already comprise Lion Madonnas and a tiled stove from Salzburg showing Saint Daniel in the lion's den. We are proud and grateful to be able to preserve this valuable cultural asset thanks to the generous donors.