Trude Kaindl-Hönig
---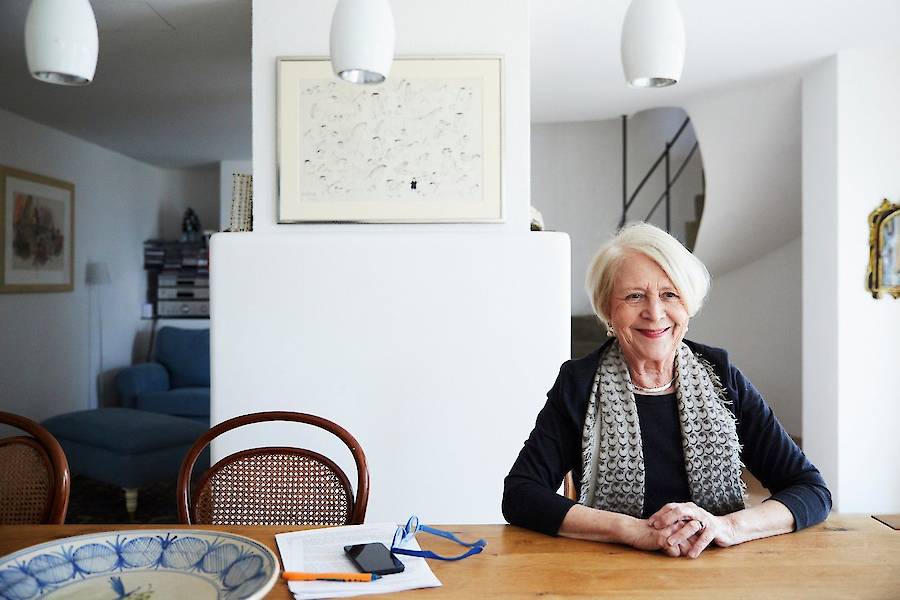 You can immediately tell that Trude Kaindl-Hönig is a woman who is easily able to show her enthusiasm. For example, when she opens the door to her home and is genuinely excited that you had no trouble getting to her house despite it being such a small road. Or, when she explains how she happened to acquire those beautiful chairs in her living room. She also shows her enthusiasm when she talks about the Leogang Gothic and Mining Museum, which you can tell from statements like:
 "It is almost hard to believe that one of Europe's centers for Gothic Art is in Leogang – that is simply incredible!"
Trude Kaindl-Hönig is the daughter of Max Dasch senior, the publisher and co-founder of the Salzburger Nachrichten (SN). After getting her degree for Global Business and Trade, she joined the paper, worked there for 51 years and, during that time, pursued countless projects in the social and in the cultural sector. "It was clear from the start that I was to join the family enterprise one day," Kaindl-Hönig explains, laughs, and adds "and I wanted to as well." In 2016, she received the Decoration of Honour for Services to the Republic of Austria. The then Minister of Culture, Josef Ostermayer, emphasized that her work in the Salzburger Nachrichten was groundbreaking in showing that "campaigning for cultural and social causes can also achieve good ratings and a gain in prestige."
As the head for special projects, she has supported setting up the Salzburg Pediatric Cancer Unit, the Children's Protection Center for abused and battered children, and has also shown her commitment to the cultural sector.
"My husband used to be the head of the SN's cultural department, where it was only about music, art, painting, and so on. That is how the cultural sector opened up to me,"
...explains Kaindl-Hönig. The 80-year-old also followed and supported the development of the Leogang Gothic and Mining Museum: "In the beginning, nobody knew about it – not even in the city of Salzburg did anybody know that this museum existed. And then I thought: Well, let's change that." It didn't take long until readers of the Salzburger Nachrichten started arriving in busses to see the exhibitions of the museum. "We had countless registrations in no time, the people were thrilled," Kaindl-Hönig remembers. She also showed her support financing the new Turmhaus by organizing a benefit event in cooperation with Hermann Mayerhofer.
To Trude Kaindl-Hönig, it is Hermann Mayerhofer who is one of the reasons for the success of the museum, and a person whose passion for his work she admires – which is how we get back to the topic of enthusiasm. "He has managed to acquire this great amount of knowledge by himself, and when you talk to him, you can feel his passion for the museum. When you are doing something whole-heartedly, when you have a good feel for quality, and when you spare no effort to do all that is necessary to achieve your goals, inevitably new possibilities open up. Hermann Mayerhofer is the perfect example for that."
Trude Kaindl-Hönig is convinced that museums like the Leogang Gothic and Mining Museum are an asset to rural regions especially. At the same time, she is aware of how difficult it is to establish a museum like this in the countryside, and, even more, to transform it into an institution.
"To a region like Leogang, it is so important to offer something other than mountains and snow. But still, in order for it to gain acceptance, it has to be extraordinary. By no means should culture be limited only to the city – such institutions have to reach the countryside as well, because they are an asset to both natives and tourists."